Materials:
Wire (I used 19 gauge I had on hand)
Needle nose pliers/wire cutters
Hot Glue Gun
Spray Paint
Embellishments – crystals, beaded necklaces (I bought a pack of silver ones at the $1 store), round mirror pieces, colored beads, jump rings, etc – whatever you like!
Let's go!
Step1: Place 2 baskets together – rounded side up/flat side down. Connect them in the middle using wire. Wind tightly. Be sure to space the "loops" to the sides as shown in the photos below.
Step 2: Take your 3rd basket and thread the hook and chains up through the middle hole and lay off to one side.
(threading up…)
(laying off to one side….)
Connect the 4 points that touch (2 on each side. See photo below) with wire. To wrap these with wire easily, apply a small dot of hot glue and then wind the wire around.
Step 4: Turn the entire piece over…..
(a close up of how I connected the pieces together with wire)
Flip it back over. Using the top basket that you threaded the hook and chain through the center, the entire connected "chandelier" should now look like this:
Now the chains that hang have some curves, shape and loop to them.
I hung teardrop style crystals from the bottoms of each of the loops on the outside chains (pictured above) and also hung smaller round crystals on the chains above the teardrop crystals.
Dress up the center and outside rings….
Draped beaded necklaces on the center front and back. Just a dot of hot glue on each side….
Just have fun where and how your embellish, drape and dress up your chandelier!
I will be linking up here…..
Our project was awared "Jen's PICK" in the CSI paint challenge! thanks Jen!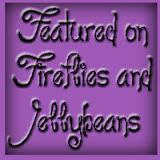 This project did double duty! It was entered into the Dollar Store Craft challenge and made the top 10!