After unleashing some creativity after moving and sharing several home decor tutorials, let's get back to sewing!
fabric
thread
pins
scissors
tulle (optional)
elastic rope (or an elastic hair tie)
fabric adhesive
STEP 1: click on the template below, print or copy and paste and print. Then cut out the 2 pattern pieces.
STEP 2: Place the BODY of Apron piece on your fabric. Pin in place and cut 2. Or Fold your fabric in half and cut 2 at the same time.
STEP 3: Cut 1 piece of elastic rope 4″ long. Cut another piece 3″ long. You can also substitute an elastic hair rubber band and use that. Just cut off the metal part.
STEP 4: POCKETS – Use a small square of a fabric adhesive like Heat n' bond on the fabric for the pockets, trace the pockets and then cut them out.
STEP 5: Take one of the BODY of Apron pieces cut from the fabric and place the pockets about 3″ down from the top. This will be the front. Iron the pockets on according to the package directions.
STEP 12: Pleat, tuck and fold the tulle to fit into the width of the bottom of the apron. Pin into place and stitch along the bottom hemline.
Trim the bottom edge of the tulle ruffle for a clean, straight look…..
and lastly, top stitch the top part of the apron further securing the neck strap into place!
The apron easily slips over over the hips and then over the head. And just look at how chic this little homemaker is now!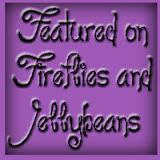 also featured on one pretty thing!